It's been a long time coming, but please, bear with me fellow and wanna-be otakus. Putting this post together has been tougher than I imagined but I hope you'll enjoy it.
I have seen a lot of anime , still not nearly enough, and I am going to share some of my absolute favourites so far. This list will only contain completed animes that I have watched so pardon me if you don't find some of your favourites or regulars. Remember, these are MY faves. This list is in no particular order of preference;
1.Baccano 
Genre:Comedy, Fantasy    
This anime is several shades of awesome! Isaac and Mira got me laughing so hard my sides hurt.  From sadistic Ladd to teary-eyed Jaccuzi,  there isn't a single boring character. One cool thing about this series is that there is no main character.  It starts out as a combination of several seemingly random and unrelated stories (set in different times) that eventually come together to make a whole lot of sense. The common ground here is immortality. Oh, I love the opening soundtrack too 🙂 . If you're new to anime, this is a good place to start.
2. Kenichi: The Mightiest Disciple
Genre: Action, Comedy
The main protagonist of the series is Shirahama Kenichi, a somewhat weak individual who was constantly bullied.  An encounter with a gorgeous girl set in motion an unexpected adventure that literally changed his life. How cool is it to be trained in various martial arts by 6 people who are considered Grand & legendary masters in their chosen arts? Well, you'd have to find out from Kenichi..
3. Anohana: The Flower We Saw That Day
Genre:Drama, Romance, Tragedy
This series is one tear jerker. I cried all through and if you're anything like me, you will too. It's an incredible story about friendship and loss, very touching.  The movie shows a little bit more than the series does.
4. Hataraku Maou-sama
Genre: Comedy, Fantasy
A demon lord flees after failing to conquer the world of Ente Isla after his confrontation with the hero, Emilia. The demon lord, general in tow, finds himself in modern day Japan and in order to survive, he gets a part-time job.
5. Darker than black
Genre: Fantasy, Action
It's dark and there's quite a bit of black in it. Contractors with supernatural abilities and fake stars that fall when one dies. You'll like this if you like death note, I think.
6. Vampire Knight
Genre: Fantasy, Romance
A handsome vampire with a secret and a beautiful human girl with a blurry past and a …crush? A couple of twists to keep you interested in the story. The story concludes in the Vampire Knight Guilty series.
7. Sword of the Stranger
Genre:Action
There's something about this anime that just grabs my attention (maybe the soundtrack, it's been known to happen). Just watch it. You'll understand, hopefully.
8. Ouran High School Host Club
Genre: Comedy, Romance, Drama
A funny anime about Haruhi Fujioka, a scholarship student who accidentally breaks an expensive antique vase after she stumbles into The Third Music room while looking for a quiet place to study. It's got all the trappings of high school romance.
9. Berserk
Genre:Action, Dark Fantasy, Tragedy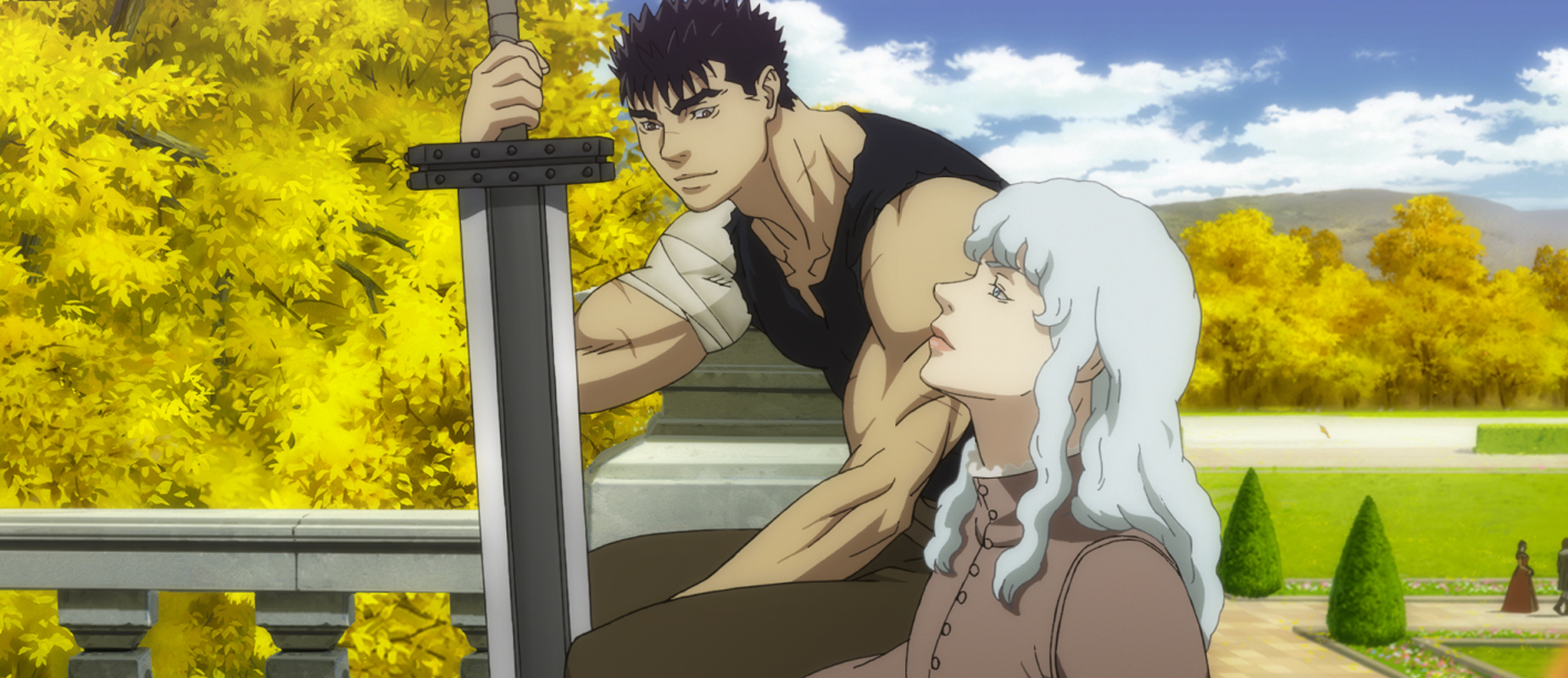 This series is simply berserk! Very dark, graphic, disturbing in a sense. I'm not usually a fan of dark anime but I couldn't stop watching this one.
10. Full Metal Alchemist
Genre: Fantasy, Science fiction
 The story revolves around the Elric brothers, Edward and Alphonse who attempt to use alchemy to resurrect their dead mother and the price they pay for it. This anime tugs at the heart strings. There seems to be a preference for Fullmetal Alchemist:Brotherhood but I haven't watched it yet so I can't give feedback on it.
11. Devil May Cry
Genre: Action, Fantsay
This is one of the first anime I ever watched. After episode 1, I was hooked.  Of course, there is also Dante's insanely huge sword, Rebellion to watch out for.
12. Trigun
Genre:Action, Space Western
Source: Zerochan
Vash the stampede is a cool and kind character with crazy gun skills. Of course, there had to be another character (Nicholas D. Wolfwood) almost equal to Vash in skill and he he's got an insane weapon called the Punisher. 
13. Sword Art Online
Genre:Action, Adventure
What would you do if you got stuck in a Virtual Reality and found out that death in the game meant death in reality? Follow Kazuto "Kirito" Kirigaya and others as they struggle to beat SAO and return to normal life.
14. Mahouka koukou no rettousei~
Genre:Action, Supernatural
The story follows Tatsuya and Miyuki Shiba, siblings who enrol at  the Private Magic University Affiliated High School (First High School). Who's a bloom and who's the weed?
15. Beelzebub
Genre:Comedy, Fantasy, Action
This trailer should evoke your curiosity. A delinquent and a demon baby combo, ha!
16. Ano natsu de matteru
Genre:Drama, Slice of life, Romance
A girl from outer space, a boy with a camera and the men lady in black? Throw in two love triangles and the story is set. Unrequited love is no joke though.
17. Kiba
Genre:Fantasy, Action, Adventure
Source: Zerochan
The story follows Zed, a 15 year old boy, who feels out of sorts in Calm, the place where he lives. By a twist of fate, he is transported to a country called Templar through a portal where he learns about Shard Casters and spirits. Unknown to Zed, he possesses the greatest key spirit named Amir Gaoul and invariably the power to destroy or save the world.
18. The Wallflower
Genre:Drama, Comedy

19. Rock Lee & His Ninja Pals
Genre: Comedy
This is a hilarious spin-off from the Naruto Shippuden series and the star of the show is Rock Lee, the ninja who can't use ninjutsu! If you're a fan of Naruto, Rock Lee needs no introduction. Follow his funny adventures as he tries to prove himself without ninjutsu.
20. Akatsuki no yona
Genre:Fantasy, Adventure, Romance
Source: Zerochan
The story follows Yona, a beautiful and naive red-haired princess who lives happily in the castle oblivious to life outside of it. All this changes when she is betrayed by her cousin and love interest Soo-won who she saw kill her father on the night of her 16th birthday. She was able to escape the castle with help from her bodyguard and childhood friend Son Hak also known as The Thunder Beast. (He is perhaps my favourite character). This is a story about self discovery, the loss of innocence and survival despite harsh odds. I love the opening soundtrack of this anime.
21. Durarara
Genre:Action
A headless biker, an insanely strong bodyguard dressed as a bartender, a black dude speaking Russian, The Dollars gang and Saika are some of the characters that'll you'll find in this anime. The story follows several characters in Ikebukuro showing how their lives intersect and what each character knows about a certain incident.
22. Toradora
Genre:Drama, Romantic comedy
Gentle Ryuji already has enough problems because of his intimidating eyes. At least he gets to be in the same class with his best friend Yusaku and his crush, Minori. Add Taiga, "the school's most dangerous animal of the highest risk level" to the mix and Ryuji's high school life takes a turn especially after discovering each others secrets.
There you have it. It took a while to compile this and I may add to this list, eventually. All of these anime can be found on www.animebacon.tv.   You can also find some of them on Crunchyroll and Funimation.